Responding to the Great Commission of Jesus to go out into the whole world and make disciples, the St. Paul Evangelization Institute is excited to announce our new School of Evangelization & Online Resource Center! Our new website is designed to help ordinary Catholics learn their extraordinary identity and be equipped as evangelists of Jesus Christ! Our website offers many unique resources that we've gathered and refined from over six years of local and national workshops, training events, collaboration with evangelization leaders, and hands on street ministry experience from our 330 teams around the country. We want to train, equip and mobilize every Catholic to increase their knowledge of the faith and learn how to effectively share it with those that they meet out on the street and in everyday life. Our website exists to engage and encourage you to learn, grow and go
You and I have been called to be agents of the New Evangelization and spread the Good News of Jesus Christ. It's time to get started!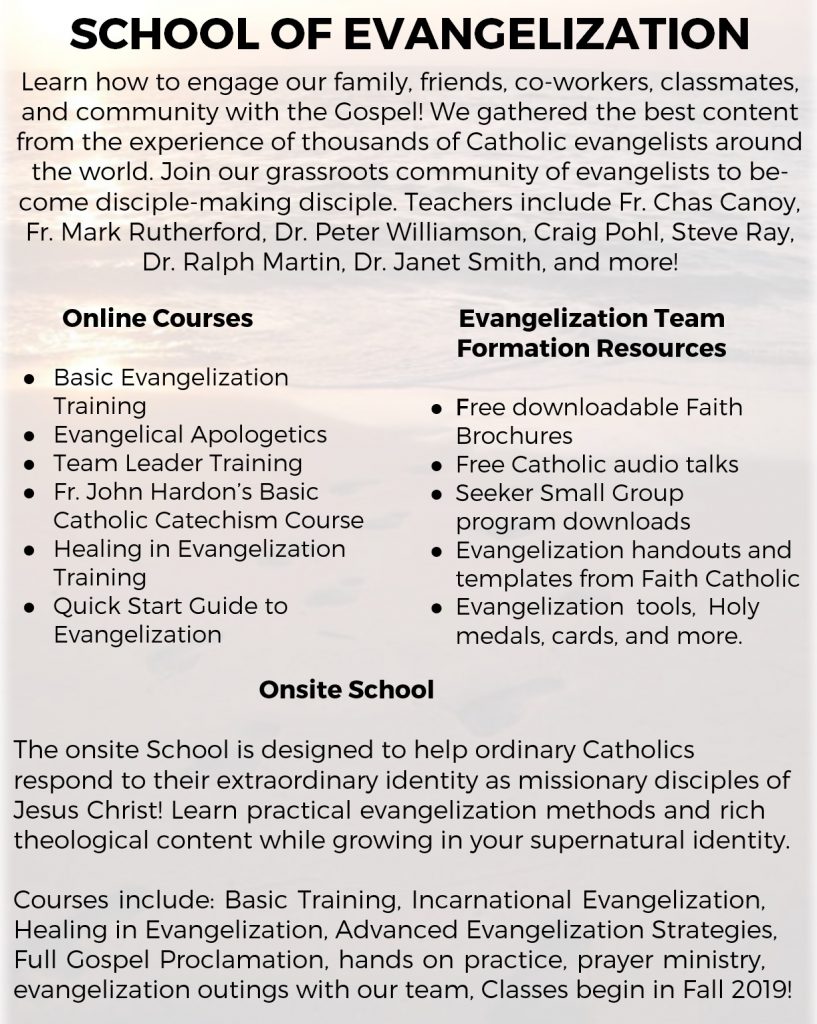 We will be adding content almost daily, so check back frequently for updates.
All St. Paul Street Evangelization Partners have access to:
Fr. John Hardon's Basic Catholic Catechism Course
Basic Evangelization Training (Archived Course)
Basic Evangelization Training (New Course with new exclusive modules, lessons, videos, and more!)
Healing in Evangelization Training
Evangelical Apologetics Training
SENT: Practical Evangelization in a Modern Culture
A Complete Audio Course on the Bible
Online Recordings of our Live Training
Dozens of Free Printable Tracts on the Catholic Faith
Audio Files you can Burn to CD for Friends
Additional Modules & Resources for Teams
Additionally, Pledging Partners Receive:
Discount Pricing on Store Items (Miraculous Medals, Signage, etc)
Exclusive Access to our Entertaining Angels Hospitality Course
Other Benefits as Described in our Partnership Levels
We invite you to partner with us as we work in the mission of Christ and his Church. We're ready to get you started on the path of missionary discipleship so that you can bring the Gospel to the world, starting with those closest to you!
Live School:
Our live school of evangelization kicks off fall 2019. Classes will be offered at locations around the Archdiocese of Detroit! Come back soon for updated locations including:
Our Lady of Grace Church Hall
26238 Ryan Road, Warren, MI 48091
Online School:
Our online school is designed to equip Catholics to learn more about their Faith, and how to share it with others in a joyful, non-confrontational manner.  Sign up as a partner today to receive access to our online courses and other evangelization tools!
Already signed up as a partner? Log In Here